BIBLE BINGO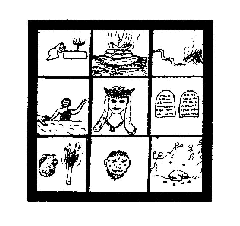 available in English or Spanish
Different game cards enable up to 20 children to play this picture bingo game, while the leader or parent uses each picture to tell a story about a great man or woman of faith in the Bible. The game lasts about 30 minutes, during which time the children learn about 30 Bible men and women of faith while they are playing.
BENEFITS
Each bingo picture comes with a paragraph explaining how the Bible person represented had great faith, therefore the children can understand more and learn about faith.
With a group of children, the game usually lasts about 30 minutes until someone gets "Bingo", but the children are actively involved and learning the whole time.
The game is suitable for all ages, even pre-school children.
As the game depends on pictures, it can also be used in other languages if the teacher understands the concept and can translate the Bible information into the needed language.
PRICING
| Description | SKU # | Price |
| --- | --- | --- |
| Bible Bingo English | BBE | 5.00 |
| Bible Bingo Spanish | BBS | 5.00 |
Note - Shipping and handling extra
To order this or other materials contact us at: mailto:shirley@imofinc.orgcom
To help sponsor this game to be sent around the world to bless children's ministries that are in great need of resources, follow this link to: World Kids PAL Club